Commercial Property Investment Finance
Due to our strong and diverse banking relationships we are able to source property funding for commercial and industrial properties on terms more advantageous than the borrower is generally able to obtain.
COMPETITIVE INVESTMENT PROPERTY FINANCE
Reesby & Co generally tenders the larger finance facilities to approximately three banks to ensure the most competitive offer is sourced. This competitive process provides exceptional results for the borrower.
INTIMATE MARKET PLACE UNDERSTANDING
The lending market changes on a monthly basis. We have an intimate understanding of the market place as we are negotiating with the lenders on a daily basis.
We therefore understand which lender provides the most competitive terms and conditions at any time and exactly how far we can push each lender.
This provides our borrowers with the comfort that they are obtaining the absolute best terms and conditions in the market.
CHILDCARE DEVELOPMENT FUNDING
Over the past 3 years we have funded the development of 10 large Childcares in the Auckland region and have specific expertise in Childcare funding.
The value of the recent projects funded is in excess of $2 billion
COMMERCIAL PROJECTS
SOME OF OUR RECENT PROJECTS +
10 Large Childcares - Throughout Auckland - Value in excess of $100 million
Long Bay Retail Centre - 7,429m2 of retail/commercial
Stonefields Retail Centre - Value over $15 million
Kapiti Retail Centre - 21,000m2 buildings - Value over $60 million
22 Fanshawe St - 12 Level Office Building, Auckland CBD
5 Nelson St 4 Level Office Building
Spark Centre - Auckland Value over $200 million
Shott Industrial Building - Westgate Value in excess of $10 million
131 Queen Street Auckland - Value in excess of $50 million
Hewlett Packard Building. Christchurch
396 Queen Street. Auckland
Ministry of Education head office. Christchurch
Telecom House. Auckland
Eaton head office. Christchurch
Workstation office park. Christchurch
450 car parks. Albert Street, Auckland City
Wella Building. Great South Road
Ministry of Social Development. Christchurch
Canterbury House Queen Street, Auckland
HSBC Tower Christchurch
West Plaza Building Auckland
Maritime House Wellington
Colenso House Wellington
No. 1 Queen St Auckland
URS Building College Hill, Auckland
General Building Shortland St, Auckland
Turners & Growers House Symonds St, Auckland
Customhouse Building Customs St, Auckland
Viaduct Quay Building Viaduct Basin, Auckland
Metro Media House Takapuna, Auckland
National Insurance Building CBD, Auckland
SOME OF OUR OLDER PROJECTS +
ASB Admin Building Dominion Road, Auckland
Eagle Technology House Wellington
Elders House Khyber Pass Rd, Auckland
350 Queen St Auckland
Deka Building Hamilton
Jasmax Building Upper Queen St, Auckland
York St Carpark Newmarket
KPMG Building Auckland CBD $1,000,000
Harvey Norman Hamilton
ACC Building Hamilton
Wesfarmers Building Manukau
Unipark Building Auckland
VTNZ Centres Nationwide
Smiths City (Alectra) Building Christchurch
Shortland Chambers Auckland
Axon House Newmarket
Capral Aluminium Auckland
The Habitat Ellerslie, Auckland
Telecom House Auckland CBD
OUR RECENT PROJECTS
WORKSTATION
Lot 4, Princess Street, Christchurch $7,000,000
396 QUEEN STREET
Auckland $14,800,000
TELECOM HOUSE
Auckland CBD $250,000,000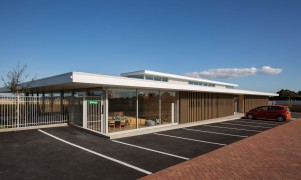 Childcare, Corinthian Dr
Albany